DSEI Protest Films
Posted: 17th September 2019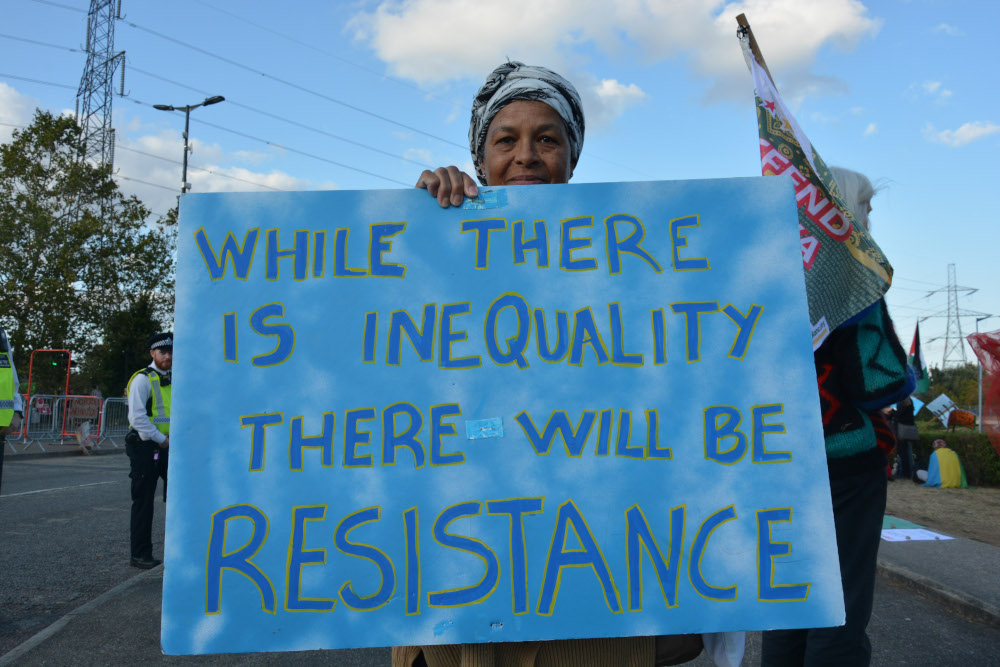 The Festival of Resistance to Stop DSEI. Watch and share the films. Credit: Darren Johnson.
Dear friends,
What an incredible week of action to stop 'DSEI', the Defence and Security Equipment International arms fair in London!
Hundreds of activists travelled from across the UK and beyond to create seven days of bold and creative actions to disrupt the set up of the event.  
At the arms fair, the UK government helps facilitate arms sales to buyers from around the world. But, against this horror, there was hope in so many people coming together in determined resistance.
Watch the week of action, as beautifully captured in our series of films by Rainbow Collective. 
Each day centred on a different theme or struggle connected with the arms trade – including climate change, fuelled by the carbon emissions of war; and borders, increasingly militarised by the same arms companies fuelling war and oppression. The week was made possible with the vast support of hundreds of volunteers and grassroots groups.
And the resistance is growing. This week, the Mayor of London Sadiq Khan spoke out, "appalled" that DSEI happens in London, and committed to do "everything in our power to prevent it from taking place in our capital again."
Watch and share the video series from the week of action.
The arms fair is nearly over, but opposition to the arms trade carries on year round. Our campaigns, research, lobbying, and support for local groups are only possible because of the donations of supporters like you. A regular donation of £5 per month by direct debit would help us keep up the pressure on government to make sure that DSEI is not welcomed back to London in 2021.
Thank you for everything you do.
In solidarity,

Jon
Campaign Against Arms Trade